School Programs Staff
Our Teacher Naturalists are dedicated professionals committed to supporting Common Core and Next Generation Science Standards through inquiry, observation, adventure, and discovery.
Casey "POPCORN"
Lead Teacher Naturalist, Evening Coordinator. Popcorn grew up in Illinois, just outside of Chicago. She earned a Bachelors of Arts in Evolutionary Biology at Knox College. Before moving to the beautiful hills of the Sonoma Coast, Popcorn taught environmental education in the glorious Sierra Nevada Mountains near Truckee and the majestic Rocky Mountains in Keystone, CO. Popcorn loves to go on long walks (like really long walks) and spend time at the ocean. She's down to throw a frisbee or a handstand at any time.
Colleen "Squid"
Teacher Naturalist. Squid grew up in Santa Rosa before moving to Santa Cruz to become a UCSC banana slug. Whilst examining real life banana slugs in the redwood forest and bobbing about ocean waves, she earned a Bachelor of Arts in Anthropology. She also studied Education and worked as an organizer for ESLP (Education for Sustainable Living Program), a student-led organization that provides experiential learning opportunities for other students. After graduating, Squid spent 2 years working as a Volunteer Coordinator for a local food pantry in Watsonville, CA. She enjoyed being deeply involved in her community, particularly working with elementary school service groups. She then began working as a special resources tutor and substitute teacher, and taught swim lessons for an after-school program in the area. After leaving Santa Cruz County, she moved to the small and beautiful mountain town of Portola to begin her naturalist career at Sierra Nevada Journeys. Squid is now happy to have returned to Sonoma County to work at the Woods. Hobbies include strumming the guitar, swimming, and eating large portions of chips and salsa.
Corey "Canine"
Teacher Naturalist. Corey is from Philadelphia, Pennsylvania. He graduated from Penn State with a degree in Human Development and Family Studies and is an AmeriCorps alum. Corey has since pursued the outdoor industry in many forms including time as a white water guide on the Nantahala River in North Carolina and leading kayak tours in the Florida Everglades and Elkhorn Slough, California. He has worked with children with special needs in Ohio and spent the past two years as a dedicated naturalist at the San Joaquin Outdoor Education School. Corey most recently led interpretive tours and programming for kids at the Wynn Nature Center in Homer, Alaska. Corey is most excited to spend his time hiking in the sprawling Redwoods as he continues to learn about them and associated flora.
David "Redwing"
Senior Teacher Naturalist. Redwing hails from the Hardworking, Hard-rocking, and Everloving Detroit City, Michigan. He studied Environmental Education together with Global Cultures and Ecosystems at the University of Michigan School Of Natural Resources in Ann Arbor. Redwing has been facilitating Outdoor and Environmental Education programs with folks of all ages for twenty-five years, while studying fungal and forest ecology - from the Jungles of Peru to the Rainforests of the Olympic Peninsula to his Home here in West County, California. He has a love of Music in (and of) our Living Earth and Great Outdoors ~ Oh yes kids, the river IS singing!
Erik "witakae"
Lead Teacher Naturalist, Senior Teacher Naturalist. Witakae, of Viking descent, was raised in the great city of Fairfield. Erik has led Westminster Woods in the adoption of cutting edge pedagogy and excellent character development programs. Wita has over fifteen years of experience in the Outdoor School industry and is a certified Leadership Trainer through Lawrence Hall of Science BEETLES program. His favorite activities include scouring the web for bombastic pundits, investigating the philosophical nature of reality and watching the Ultimate Fighting Championship.
Jefferey "whitebear"
Campfire Maestro. Whitebear was born and raised in Cleveland, Ohio. He attended kindergarten through 12th grade in Cleveland, which was then a thriving steel town and ranked in the top ten highest populated US cities. After a 4 1/2 year tour in the US Coast Guard as an airplane mechanic which brought him out west, he received an AA degree from Santa Rosa Junior College and a Bachelor of Science in Outdoor Education from Sonoma State University in 1990. He has previously worked as a Naturalist/Musician at Ocean Song Farm and Wilderness Center, Land Paths and Acorn Soupe. Whitebear loves playing music with friends and anyone ESPECIALLY outside on our beloved Earth. He also enjoys hiking, backpacking and otherwise adventuring to learn more about himself and our amazing planet which is his greatest teacher. Whitebear LOVES Life!
Jesse "echo"
Challenge Course Coordinator. Echo was born and raised in Roseville, CA and graduated in spring of 2015 with a major in Business Marketing and a minor in Religion. He worked on the Summer Staff of Westminster Woods for four years and volunteered before transitioning to being a part of the year round staff. Echo also volunteered as a youth basketball coach while in high school. Some of his hobbies include playing the guitar and ukulele, playing basketball, and becoming absorbed in a good series/books/movies.
Jessica "fox"
Challenge Course Manager. Jessica is a certified Challenge Course Manager and Social Emotional Intelligence Trainer and has worked in the outdoor adventure industry for over a decade. Her enthusiasm for outdoor adventure/challenge course pursuits has led her to explore other courses around the globe; she has even jumped out of a perfectly good airplane "just for the thrill of it." She has an entrepreneurial streak and has explored many different, creative industries, but always gets drawn back to working with, and empowering, youth. Jessica feels that a ropes course can be a potent tool for gaining self-awareness and is moved by the immediacy of the experience she witnesses when running a program. In addition to managing the course at Westminster Woods, Jessica is the Director of the California Challenge Course Network conference. The annual conference draws challenge course professionals from all over the West Coast to share their knowledge, experience and love of "play." When she's not swinging through trees or gathering her peers together, Jessica enjoys spending time with her husband and daughter, sewing, gardening, dancing and building massive installation art at festivals.
(707) 874-2426 ext 633 | jessica@westminsterwoods.org
Jonny "Chivo"
Lead Teacher Naturalist. Chivo is originally from Southern California and moved to Northern California as a transfer student to obtain his degree in Communication Studies from Sonoma State University. After graduating, Chivo spent the next year working in Skagway, AK, as a rock climbing and zip line guide, field instructor for an outdoor science school in Southern California, and Multi-Sport instructor at a summer day camp in Oakland, CA. Finally, he has landed here in Occidental to call these woods his home. His hobbies include cooking, rock climbing, reading, creating new friendships and spending time with friends and family.
Josh "Turkey"
Senior Teacher Naturalist. Turkey was born and raised in a tiny little corn patch in Topeka, Kansas. Turkey has a degree in Natural Resources and Environmental Science from the Kansas State University. He is one of our most seasoned Teacher Naturalists and has experience at many places, including Walker Creek Ranch over in Petaluma, California. Turkey is a proud Eagle Scout and brings a rugged sense of adventure and radical self-reliance to our camp. He enjoys long walks on the beach, foraging for mushrooms and climbing trees.
Justin "tarantula"
Teacher Naturalist. Tarantula is from the town of Mendocino. In 2018, he received a Bachelor of Science degree from UC Santa Cruz where he majored in Ecology and Evolutionary Biology. His field experience includes studying pumas and their interactions with deer populations on Mount Shasta and studying spiders and spider web morphologies in the canopy of a Costa Rican cloud forest. Prior to working at Westminster Woods, he worked with Bird School Project in Santa Cruz, taking experiential environmental education to schools in the Santa Cruz area. Tarantula's favorite things to do (aside from exploring and talking about nature) are rock climbing and singing.
KORI "Sequoia"
Director of School Programs. Kori is an experienced environmental educator and education director. Along with a Bachelor of Arts degree in Education and a Master of Science degree in Natural Resources and Society, Kori holds certificates in Environmental Education and Outdoor Education. Kori has extensive training in BEETLES programming and has applied her knowledge of Next Generation Science Standards and Common Core to experiential education curriculum development. During her time with the Residential Environmental Education Partnership, Kori worked on tools to improve Social Emotional Learning in residential environmental education programs. Kori visited Westminster Woods as a youth mentor when she was in high school.
(707) 874-2426 ext 616 | kori@westminsterwoods.org
Lillian "Puma"
Teacher Naturalist. Puma grew up in Richmond, CA and fell in love with the outdoors through summer camp and family camping trips. She has devoted most of her summers to sharing the joys of outdoor adventures with youth as a counselor and teen camp director at Camp Woolman in the Sierra Nevada. At Dickinson College in Pennsylvania, she majored in American Studies and blended her love of the outdoors with her passion for social justice through her senior thesis which examined approaches to making the outdoors a more inclusive space. Before moving to the redwoods, Puma taught outdoor education in the beautiful rolling hills of Marin County. When she's not playing outdoors, Puma enjoys hanging out with cats, baking cookies and listening to podcasts.
Olivia "Newt"
School Programs Coordinator. Olivia was born in Napa, California, where she spent her youth frolicking through the grapevines and exploring local creek beds. In her early years, she enjoyed hiking, crafting, and archery at 4H Summer Camp and spent every afternoon at the local ballet studio working on her dance skillz. As a young adult, she graduated from California State University, Chico with a degree in Environmental Studies and minors in Sustainability, Management, and Anthropology. Olivia also studied for a year at the University of Stirling in Scotland, the land of the unicorns and kilts, where she enjoyed dancing in the moonlight, and exploring old castles. Olivia has spent many a summer working at Connolly Ranch, in Napa, teaching farm animal care, gardening, and singing silly songs to bright-eyed preschoolers. Before coming to Westminster Woods, she worked at San Mateo Outdoor Education in the Santa Cruz Mountains. Olivia's top hobbies include: naps, ukulele, bubble baths, and dog petting.
(707) 874-2426 ext 627 | olivia@westminsterwoods.org
phillip "petunia"
School Programs Coordinator. Petunia grew up in Texas on the banks of the Buffalo Bayou, but moved west to California for college, where he studied Communications and Classics at Santa Clara University. After graduation, he bounced around the globe for two years leading active travel trips with Backroads. He then kicked off his environmental education career at the nearby Walker Creek Ranch. He loves backpacking, board games, books, podcasts, and water polo.
(707) 874-2426 ext 627 | phillip@westminsterwoods.org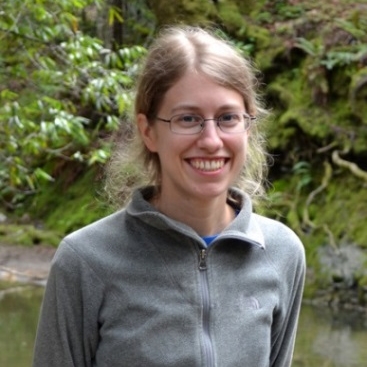 Rebekah "redwood"
Senior Teacher Naturalist. Redwood was raised in Orangevale, California. She came to Westminster Woods in 6th grade for outdoor education and a few summers as a summer camper. She has worked on the Wood's Challenge Course multiple summers. After earning a B.A. in Liberal Studies (Education K-8) from Azusa Pacific University and a special education teaching credential from California State University, Sacramento, she taught middle-schoolers for a couple years in the Sacramento area before joining the Wood's year-round staff. She enjoys reading and outdoor activities like hiking and rock climbing.
Rob "fish"
Challenge Course Technician. Fish was born in Stockton, California. His educational background includes a Masters in Metaphysics and Pastoral Counseling. Fish served for eight years in the Air Force as a Rescue and Medic Specialist. His other jobs include working for 10 years as a U.P.S. driver and 3 years as a Hawaii Scuba Instructor. Fish has worked off and on with the challenge course at Westminster Woods since 2000. His hobbies include hiking, swimming and inner exploration.
Ruth "Feather"
Teacher Naturalist. Feather grew up in the oak woodlands of Orangevale, California, where she spent much of her free time outside. She earned a degree in Outdoor Leadership from Simpson University in Redding, and while there, she began to enjoy backpacking and rock climbing. After graduating from Simpson, Feather moved out to Sonoma County where she spent six years as a naturalist at the nearby Alliance Redwoods before transitioning to Westminster Woods. Feather enjoys spending time in the beauty of nature and likes riding her bicycle long distances. She recently finished touring the Pacific Coast bicycle route with her husband. Feather also enjoys scientific illustration and has created several hand-drawn field guides of animals that live at camp.
Sam "Snapdragon"
Challenge Course Technician. Snapdragon was born in San Diego, where he lived until he moved to the North Bay Area to go to college at Sonoma State University. While studying at SSU, he worked as an Outdoor Trip Leader and as Coordinator of the school's Low Ropes Course. He loves music, and he plays electric bass guitar. His favorite color is green, and if he could only eat one food for the rest of his life it would be burritos.
Steven "Nautilus"
Evening Coordinator. Nautilus grew up in Yuba City, California. He went to Humboldt State University and received a Bachelor of Science in Marine Biology while also minoring in Scientific Diving. Nautilus has a long history here at the Woods: he first came here as a high school camper back in 2007. He has worked as a Summer Staffer since 2011 and is currently the Jr. High Camp Coordinator. Nautilus started his Outdoor Education career just up the creek at our neighbor Alliance Redwoods working as a Naturalist and Challenge Course Facilitator for a year before finally coming home and joining the Wood's year-round team. He loves spending time diving under the ocean waves helping Reef Check California collect data along our coast or looking for treasure.